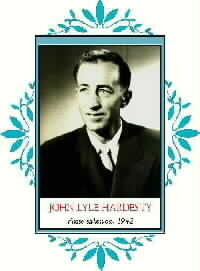 86. John Lyle4 Hardesty (Homer James3, John Coleman2, James1) was born in Elwell, Weld co., CO 29 Jul 1909. John died 2 Dec 1980 in Loveland, Larimer co., CO, at 71 years of age.
He married twice. He married before 1935. He married Molly Hintz in Cheyenne, Laramie co., WY, 1 Feb 1937. Molly was born in Russia 21 May 1900. Molly was the daughter of Hintz. Molly died Dec 1993 in Douglas, Converse Co., WY, at 93 years of age.
John Lyle Hardesty had the following child:

173 i. Mary5 Hardesty (living status unknown).


Send email to preparer: papabear@ptinet.net


Return to Table of Contents or Index

Go to Next Page

Go to Previous Page