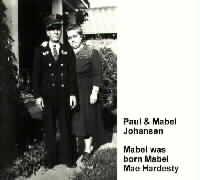 83. Mabel Mae4 Hardesty (Homer James3, John Coleman2, James1) was born in Omaha, Douglas co., NE 26 Jun 1904. Mabel died 29 Nov 1972 in Douglas, Converse Co., WY, at 68 years of age. She died at the home of her brother, Vernon E. Hardesty, whom she was visiting at the time. Her body was interred Oct 1972 in Lafayette, IN, Tippecanoe Memory Gardens.
She married twice. She married Harry Earl Kissack in Gering, Scotttsbluff co., NE, 25 Nov 1922. Harry was the son of Robert Kissack and Selena. She married Paul Hans Johannsen in Morrill, Scottsbluff Co., NE, 25 Jun 1933. Paul was born in Copenhagen, Denmark 10 Nov 1898. Paul died 24 Mar 1971 in New Albany, IN, at 72 years of age.
Mabel Mae Hardesty and Harry Earl Kissack had the following child:

+ 168 i. Norma Lorraine5 Kissack (still alive).


Send email to preparer: papabear@ptinet.net


Return to Table of Contents or Index

Go to Next Page

Go to Previous Page